SK-X® is the innovative system for optimum vision and enhanced performance in motocross and enduro riding. In sports where speed and precision are critical, you should never compromise. 
See for yourself the advantages of SK-X® optical bike goggles with vision! 
MOTOCROSS AND ENDURO GOGGLES FOR EYEGLASS WEARERS 
On the basis of our experiences in the winter sports area, we have advanced the development of goggles for use in motor sports such as motocross and enduro, optimising them to meet the demands of the field. Initial test runs by riders have shown that SK-X® technology also delivers huge advantages in these areas. Practically made-to-measure for your needs, the goggles promise an extremely wide field of vision and improve vision and performance! Discover the innovative solutions of SK-X® and download our product catalogue.
GREATER SAFETY THROUGH BETTER VISION
Uneven terrain, rapidly shifting eye movements and the sheer demands on stamina (both physical and mental) place a great strain on motocross and enduro riders. All of this forces the eye muscles to work hard to coordinate while anticipating turns and corners ahead. The strain on the entire visual system is much higher still where the brain has to process blurred images from both eyes. Overloading can easily lead to visual deficiencies that significantly impair perceptions of speed and distance as well as physical coordination.
The risk of accident and injury increases considerably the longer the strain persists, making compromise inevitable. Although we do not notice it, the brain can deliberately suppress the visual input from one eye in order to avoid the exertion required to merge the images from both eyes. This additional effort expends energy which is then lacking in extreme situations or when fatigued. The consequences are a significantly impaired vestibular system as well as deficits in spatial vision and coordination. This is where SK-X motocross goggles come in, relieving the burden on your eyes and improving your vision.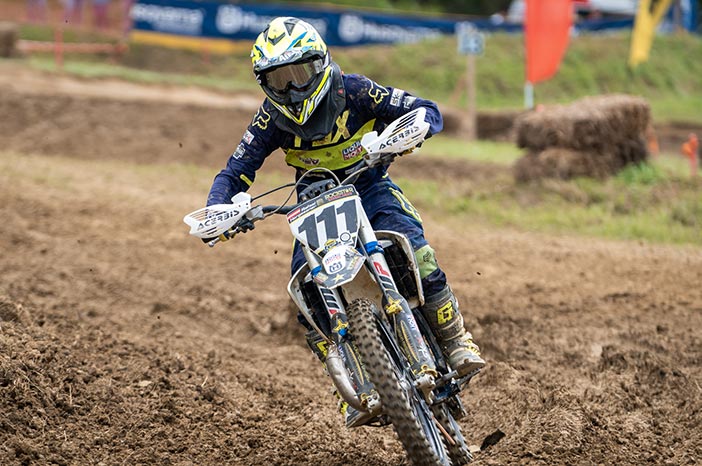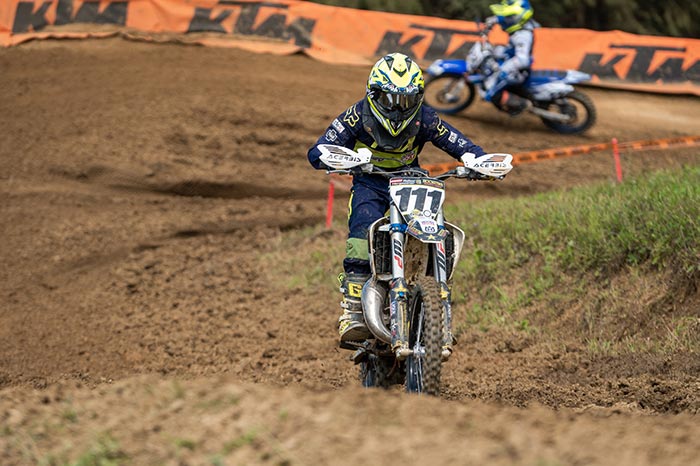 When the terrain is very uneven and when high speed places great demands on the body, the quality of visual inputs from the eyes is critical to greater safety. Some clip-in systems provide no more than a small slice of reality and cannot be firmly affixed to a helmet, which means they slip, shake and mist up. Because of this, many sportspeople simply abstain from correcting their vision at all. The answer? SK-X® optical goggles with vision for motocross and enduro helmets!
ALTERNATIVES FOR CONTACT LENS USERS
Even we were surprised to find so many contact lens wearers switching to SK-X®. Even when they are properly aligned, problems can arise with contact lenses. For many people, the exertions of sport – especially when high speed is involved – result in a 'frozen' gaze to ensure we miss nothing; we even blink far less. As lenses dry out on the eye faster, this dryness – or a poor fit – can lead to eye irritation. In the case of soft lenses, image quality can fluctuate considerably as the lenses become drier.
SK-X® glasses represent an important, much needed innovation for all those who have been practising sport with no vision correction, wish to avoid the familiar pitfalls of clip-in systems or feel unsatisfied with their contact lenses. Ask your nearest optician about solutions from SK-X®!
Find an optician near you:
choose from more than
SK-X® TECHNOLOGY FOR MORE STABILITY ON A BIKE
What distinguishes SK-X® technology from other systems for eyeglass wearers (bike goggles fitted over spectacles or clip-in systems)? What are the advantages? During the development process, the top priority was to optimise visual inputs for the eyes, and thus for the brain. The better the quality of the images passing from both eyes to the brain, the less work the brain has to do to process that information. The result: more fun and less effort in motocross and enduro riding!
PERSONALISED PRODUCTION OF ALL MOTOCROSS AND ENDURO GOGGLES
All of our goggles are manufactured with curving sports lenses adapted to the curvature of the bike or enduro goggles. The optical lenses with free-form technology are customised for each individual and designed to optimise peripheral image quality as well as spatial vision. Improved spatial and distance perception and an optimised sense of speed significantly enhance your ability to ride safely and operate your bike with good coordination.
TECHNICAL INNOVATIONS FOR MAXIMUM PERFORMANCE
MX and enduro goggles are generally distinguished by their toric lens systems. The curvature of toric and cylindrical lenses differs both vertically and horizontally. These systems were chosen so that tear-offs or protective straps could be attached to the mask and, as far as possible, prevent dust getting between the protective layer and the lens.
The system we have developed for winter sports enables us to fit 'spherical' lens systems with optical glasses; spherical lens systems are not normally used, however, for the reasons already outlined. To combine the two different systems – a spherical inner lens with integrated optical glass and a toric front lens – it was necessary to come up with a new solution.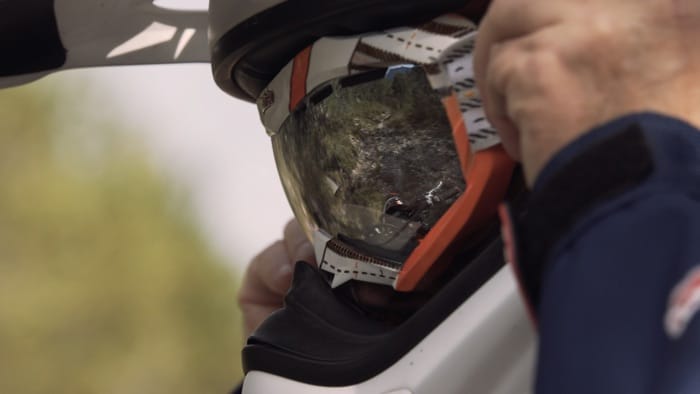 FURTHER OPTIMISATION THANKS TO FULL-FRAME ADAPTER
Our response to this technical challenge was the full-frame adapter, for which a patent is pending. The adapter is made from biocompatible synthetic material using a 3D printing process. Bearing in mind the many lens variations in motor sport goggles, 3D printing facilitates fast and flexible adaptation to evolving designs.
Another advantage of the adapter is to bring the optical lenses much closer to the eyes (to a distance similar to that of everyday spectacles). Needless irritation from the glass edge of the optical lenses is thereby reduced or prevented altogether. The closeness of the lenses also expands the field of vision for every user: there are no blind spots, and the full panoramic spectrum of the lens is retained.
Find an optician near you:
choose from more than