SK-X® is the innovative system for optimum vision and enhanced performance in MTB and downhill riding. In this sport especially, optimum vision is essential to ensure safety, and above all for performance. See for yourself the advantages of SK-X®, the optical sports goggles with vision!
MTB & DOWNHILL GOGGLES FOR EYEGLASS WEARERS FROM SK-X®
On the basis of our experiences in the winter sports area, we have advanced the development of optical protective goggles for mountain biking and downhill riding. Initial test runs by riders have shown that SK-X® technology also promises huge advantages for those engaging in these sports. Practically made-to-measure for your needs, the goggles promise an extremely wide field of vision, enhance safety and improve your performance! Discover the innovative solutions of SK-X® and download our product catalogue.
GREATER SAFETY THROUGH IMPROVED VISION FOR MTB AND DOWNHILL RIDERS
The downhill area demands maximum performance from both riders and materials. Ensuring the specific material components of the bike are coordinated to the respective rider is critical in determining whether an athlete reaches their full performance potential. Equally important is safety and the ability to place full trust in the equipment. Of course, this is not only true for high-performance athletes, but also for amateur bikers. Only those who trust their equipment 100%, with no hesitancy, can be expected perform to the full.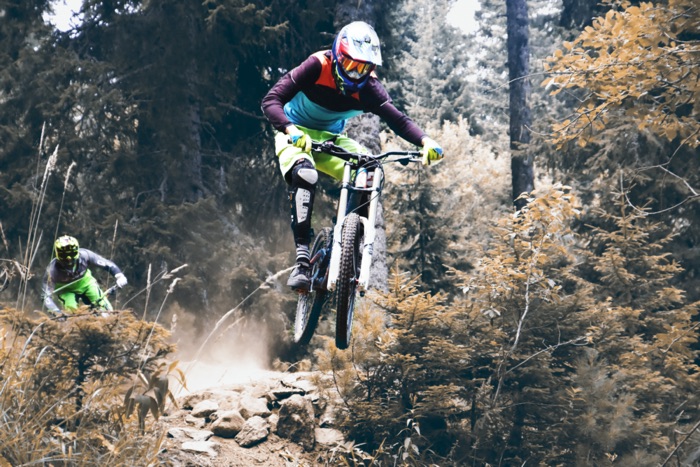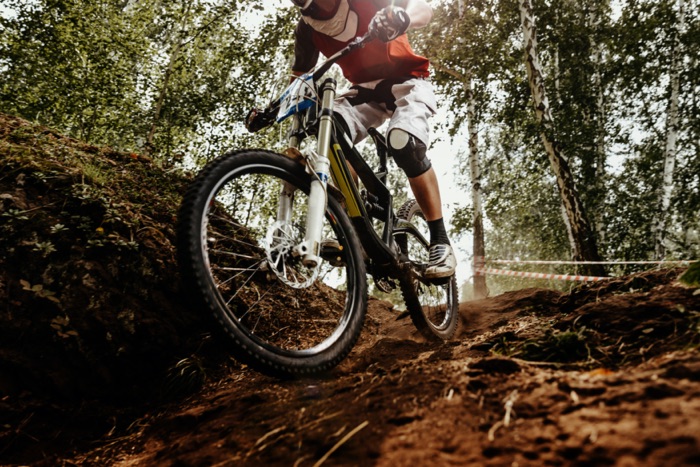 While a lot of money is generally invested in the bike, clothing and various training measures, people are far more likely to comprise on sports eyewear. That said, the performance of amateur sportspeople is also impaired by poor vision. Factors like the ability to coordinate, the vestibular system, speed perception, distance perception (3D vision) and concentration are constant concerns when engaging in sport. The better the perception, the less compensation work the brain needs to do – and the safer the user feels on a mountain bike.
IMPROVED PERFORMANCE AND LOWERED ACCIDENT RISK THANKS TO SK-X®
Today's mountain bikers – and especially downhill riders – travel at great speeds. Whether training informally or competing seriously, they must concentrate hard to avoid mistakes and thus major injuries. Racing through a forest places far greater demands on the visual system than road racing, for example. As terrain constantly changes (stone, sand, roots), gradients vary and the light and shade alters, the visual system is placed under huge strain.
Despite this, studies show that more than 30% of all sportspeople who wear eyeglasses practise sport with zero optical correction. For any athlete, amateur or professional, uncorrected impaired vision becomes a 'natural' performance hurdle that has to be continually overcome. After a time, this hurdle will prevent the athlete from progressing beyond a certain level of performance; riders tire more easily, experience lapses in concentration and face a significantly higher risk of injury.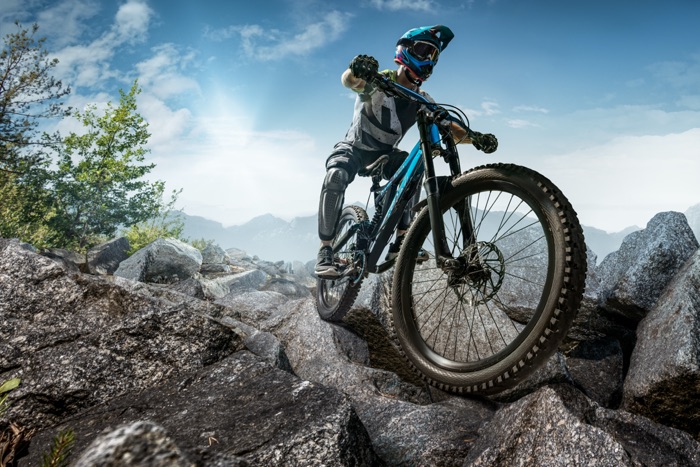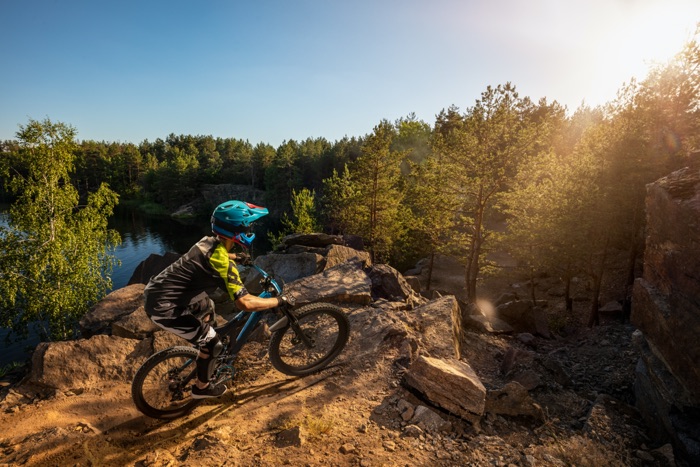 OPTICAL GOGGLES WITH VISION FOR MOUNTAIN BIKE AND DOWNHILL HELMETS
SK-X® goggles for mountain bikers and downhill riders promise significant improvements for sportspeople who need to correct their sight when engaging in sport. With years of experience in skiing, SK-X® has also developed optical sports goggles for MTB and downhill riders who wear eyeglasses.
The optical lenses integrated in the mask itself with free-form technology are designed to meet the needs of individual riders. The large sport lenses, curved to match the curvature of the mask, deliver visual input that is far more useful than that provided by standard flat lenses. With this additional information, speed perception and spatial (3D) vision are considerably improved and the brain can utilise resources more effectively. These factors make you perform better and, critically, make you much safer on your bike.
Any rider can now feel safer, and ideally use this to boost their performance. Equipment can be utilised to the full as coordination improves along with the vestibular system and performance is optimised. Feeling safer can translate into better sporting performance.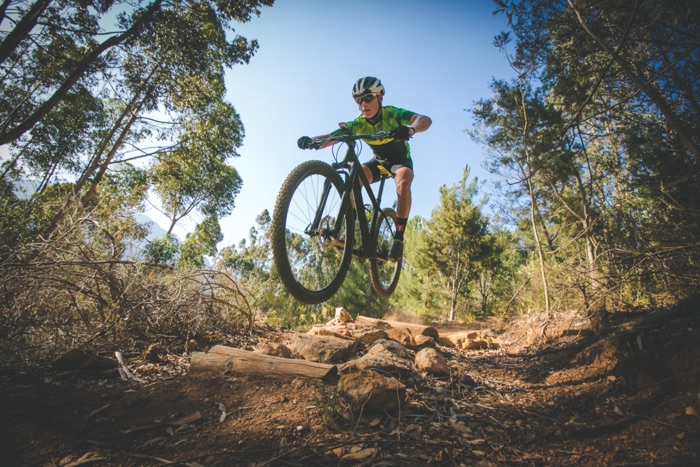 WHAT ARE THE ADVANTAGES OF THE SK-X® OPTICAL GLAZING SYSTEM?
The full-frame adapter fitted on the inside of the protective lens ensures the optical lenses are positioned before the eyes in such a way that the field of vision is not restricted. The optical lenses in free-form technology are heavily curved, delivering optimised peripheral vision that ideally supports the visual system. The higher the quality of peripheral vision, the faster the brain incorporates this additional information (which everyday flat spectacles do not provide) into the visual processing chain. For most users, this means enhanced safety and thus higher performance.
The glass is firmly integrated into the double lens system of the goggles, thus preventing injury in the event of a fall or other strong impact to the goggles. The optical lenses are also treated with an anti-fogging agent in order to virtually eliminate misting of the glass, even under highly demanding conditions.
See for yourself the advantages of SK-X® solutions: contact one of our partner opticians near you!
Find an optician near you:
choose from more than