FROM VIENNA TO THE WORLD
Who is behind SK-X® optical solutions GmbH – and why exactly are lowlanders producing solutions for the ski market? Learn about the development of SK-X® and get to know the people responsible for its success.
HOW IT ALL BEGAN
SK-X® was established in 2017, when the company emerged as an independent entity from the opticians Sehkraft-Sportoptiker, a traditional business situated in Vienna's 7th municipal district – but there has never been anything particularly traditional about us. In 2011 the company embarked on a clear course, setting out to meet the needs of people who wear eyeglasses while engaging in sport. In no time, we were catering to sportspeople in all kinds of disciplines. From traditional bike goggles to diving masks with optical glass, from contact lenses for beach volleyball players to special glasses for marksmen, we covered it all. In this way, we rapidly emerged as the leading sports eyewear specialist for Vienna and beyond.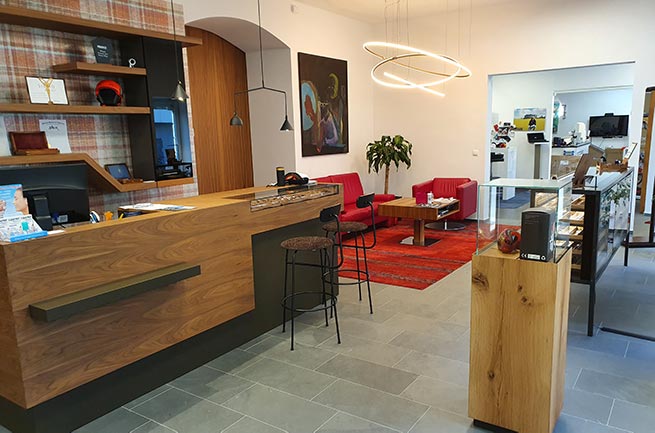 Patent, TV-Show and the Investor

The turning point came during one week in 2013 that would define our future path. Several customers, independently of one another, asked why there were no ski goggles suitable for eyeglass wearers. That was the starting point for much of the deconstruction work aimed at developing an initial prototype. In 2014 we took the decision to file a patent application for a solution that would ultimately be recognised in Austria (2016), the USA (2017) and the EU (2019). Finally, in 2023, we received the European unitary patent for the further developed solution using a full-rim adapter, as is now used in all glasses.
By 2017, with an Austrian patent and a sales network of more than 300 opticians behind us, we were ready to present our solutions on TV. Through the TV show '2 Minuten 2 Millionen', we managed to convince Dr. Hans-Peter Haselsteiner – our ideal investor – of the viability of SK-X®. Continuing to invest in SK-X®, Dr. Haselsteiner remains part of a success story that would never have been possible without his investment.
The Team

There are many people and companies behind the success of SK-X®. Katrin Weber, Thomas Halper and Christoph Rauter – three opticians with extensive professional experience – make up the core team in Vienna. Our work also has the active support of outside entrepreneurs. Given that members of the core team share two passions – optometry and sport – it is no surprise that everyone involved is strongly motivated when it comes to enhancing products and developing imaginative new solutions.
QUALITY ASSURANCE THROUGH AN INTERNATIONAL NETWORK OF SPECIALIST OPTICIANS
The decision to offer optical ski goggles not just in our own shops gave rise to many questions regarding distribution and market perception. One thing was clear to us, though: there was a very big market for our products. From our very first press reports and PR activities, it was evident that we had touched a nerve with an international target audience.
From the outset, it was important to bring specialists and employees on board as we became part of a larger network – partly to raise awareness of the need for greater safety in alpine skiing, but also because we wanted to build an international network that would give SK-X® a profile surpassing the borders of Austria. We have no doubt that specialist opticians are the ideal partners for SK-X® because they possess the necessary technical data that enables us to offer the perfect product to every user.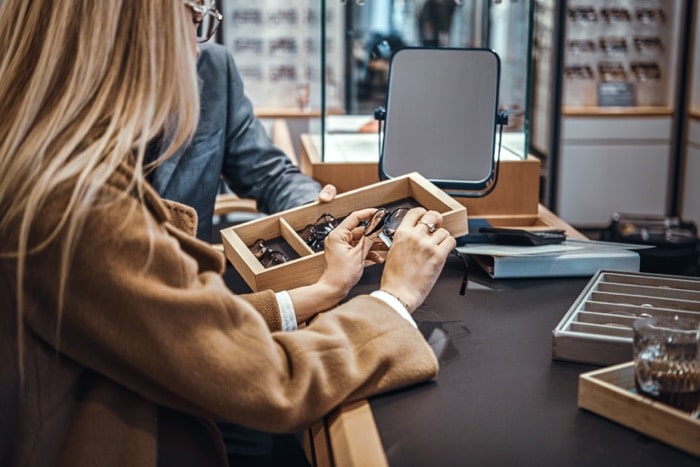 In recent years, we have managed to expand our international network significantly. All network partners are listed on our web site, and easily found using the search function: Find an optician.
Needless to say, we are always pleased to add new opticians to the network. To collaborate with us, new opticians need only complete a short and simple registration process and undergo a check. This in turn enhances customer proximity. We are currently looking to cooperate with ophthalmic lens manufacturers in several European countries. In this way, it is hoped our network will expand more quickly and efficiently while minimising delivery times and distances. The same goes for our suppliers of optical masks. For more details on the eyewear models offered, see our products page.

NÖ Skipool is a network of the Lower Austrian Ski Association which cooperates with numerous businesses with a view to promoting skiing in Lower Austria. As a premium partner to the NÖ Skipool, SK-X® is itself playing an active part in furthering the development of young skiers. In 2019, SK-X® also became a main sponsor of the Lower Austrian MastersCup, a series of races for serious skiers of all ages.
Find an optician near you:
choose from more than