SK-X®: OPTICAL SPORTS GOGGLES FOR PERFORMERS
SK-X® makes sport more fun by enhancing safety. For competitive sportspeople and amateurs alike, good visibility is every bit and valuable and important as a crash helmet. See for yourself the unique advantages of SK-X® sports goggles!
Sporty greetings,
The SK-X® team
of eyeglass wearers practise their sport with no optical aid
of skiing accidents occur because of poor visual perception
The SK-X® System promises perfect vision for sportspeople
SK-X®: THE INNOVATIVE SYSTEM FOR OPTIMUM VISION AND SPORTING PERFORMANCE
Are you a keen skier, snowboarder, motocross rider or MTB enthusiast who wears eyeglasses? If you refuse to compromise when choosing other equipment for your favourite sport, SK-X® technology is ideal for your needs. We offer a simple solution for eyeglass wearers who want to see clearly when playing sport – through sports goggles with individual prescription values. We apply our wealth of experience in sports eyewear to our solutions.
SK-X® is a pioneer in the field of sports goggles with optical lenses. We took the first steps towards the patented product of today back in 2013. 
Sports goggles with SK-X® technology promise wholly new possibilities at a highly advanced technical level.
From experience we know that optimum vision has a positive impact on the performance of sportspeople – which we why we are continually working to optimise our innovative solutions and technology.
SUCCESSFUL START-UP
28th February 2017 was a decisive day for SK-X®. Having spent years successfully developing our optical ski goggles, we took a chance on the TV show '2 Minuten 2 Millionen'.
Bringing Dr. Hans-Peter Haselsteiner on board as an enthusiastic investor was another critical moment in terms of the next steps we have since been able to take in partnership. He instinctively understood what our product is all about, and perceived a corresponding gap in the market. From the outset, both sides were clear that establishing the client base for a new technology would take time and patience. Today, SK-X® products are available from 300 opticians in 11 countries.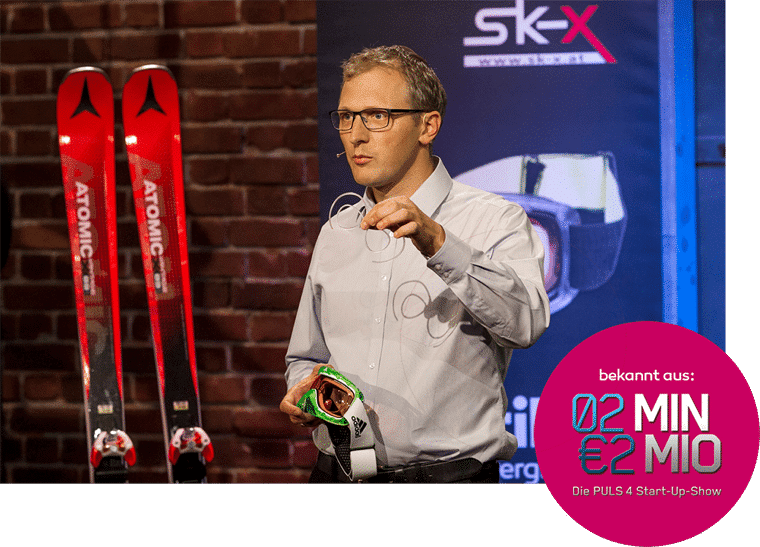 Find an optician near you:
choose from more than
"These goggles are really a different dimension compared to the previous version. I have such a feeling of safety and joy when skiing. The viewing angle is perfect and if you put the goggles on centred, the inner rims don't bother either. Thank you very much and I will recommend SK-X to others."
"These ski goggles are the best I've ever had for ski races! I won the senior class – I've already used the goggles twice, they were brilliant!!! Thanks for everything!"
"So far, my experience with the SK-X®goggles has been nothing but the best. Skiing is much easier again, especially when visibility is poor. So far I did not have any problems with lenses fogging up, even with these low temperatures."
"The goggles are perfectly tailored to my needs – so far I have not seen a better system. The lenses with a brightening effect ensure good visibility also in poor light conditions."
"Thanks to the prescription ski goggles, I rediscovered the pleasures of skiing! I feel safe again and race down the slopes almost like in the good old days."
"After putting the two goggles to the acid test a whole week long I can ensure you, that BOTH are perfect! The goggles have passed the endurance test brilliantly!"
"The field of vision of these goggles is the best I've ever had, which is fantastic. The glasses only fogged up a little, when I skied down in deep powder snow, which was quite exhausting."
"The goggles are brilliant, great visibility! Thank you for the best solution for visually impaired enduro riders."
"I have been using the ski goggles for quite some time now and cannot imagine skiing without them again."