SK-X® is the innovative system for optimum vision and enhanced performance in the sport of skiing. Patented optical ski goggle lenses will improve your vision when engaging in winter sports – whether skiing or snowboarding. See for yourself the advantages of optical ski goggles from SK-X®!
SKI GOGGLES WITH VISION FROM SK-X®

The SK-X® journey began with ski goggles for winter sports. Since 2013, we have been continually working to improve our innovative system. For the 2019/20 season, we have raised the quality of our optical lenses to a whole new level. A newly developed full-rim adapter brings the optical lenses closer to the eyes, thereby reducing potential irritation from the lens edges.
The new SK-X® technology for the optical glazing of ski goggles facilitates a huge field of vision. The high peripheral image quality of the free-form technology lenses also supports the vestibular system, and thus the ability to coordinate. Extensive customer feedback has shown that winter sports fans feel significantly safer and experience greater endurance.
OPTICAL SKI GOGGLES FOR VISION AND SAFETY
From experience we know that optimum vision has a positive impact on the performance of all sportspeople. Our aim is raise awareness of the importance of flawless vision to safety in winter sports, as we demonstrated with our skiing helmets. Despite the fact that some 80% of skiing accidents are caused by perception errors, more than 30% of all eyeglass wearers do not correct their vision when skiing or snowboarding.
Ski and snowboard goggles with optical glazing deliver the enormous advantage of clear vision – regardless of whether the mask is fitted with a dark lens or the kind of transparent lens preferred by participants on full-moon ski tours.
of eyeglass wearers practise their sport with no optical aid
of skiing accidents occur because of poor visual perception
The SK-X® System promises perfect vision for sportspeople
INTEGRATED UV PROTECTION
When skiing and snowboarding, our eyes need the best possible protection. When it comes to sun protection, though, many sportspeople are still less cautious than they should be. On a mountain, UV exposure is many times greater than it is in the valley. Strong sunlight and severe glare from snow and ice intensify the strain on our eyes. Even if the light may seem 'flat' in the afternoons and in misty conditions, UV exposure will still exceed lowland values – even in the height of summer.
High UV levels cannot be seen with the naked eye: since we tend to associate UV with strong glare, we do not wear sunglasses or suitable sports goggles often enough. In the long term, this can cause serious damage to our eyes. Since the retina is highly sensitive to UV light, repeated exposure to excessively intensive UV is dangerous. When skiing, therefore, it is essential to keep the eyes protected with appropriate sunglasses, sports sunglasses or ski goggles, regardless of the level of glare. In SK-X goggles, UV protection is pre-integrated.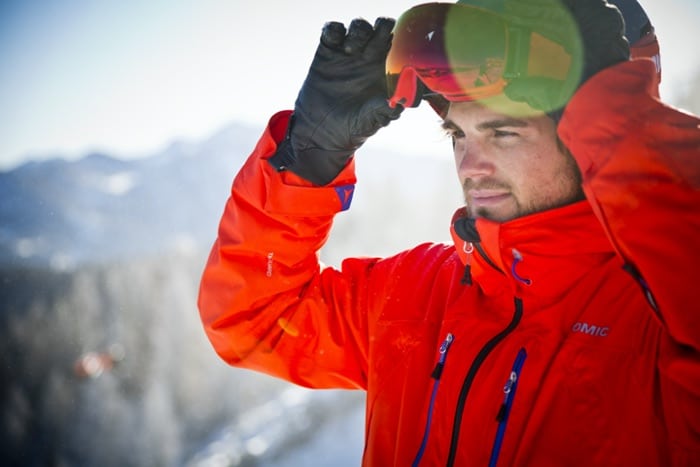 SPORT WITH MORE FUN AND LESS EFFORT
Surveys carried out in recent years have revealed that more than 30% of eyeglass wearers make big compromises when engaging in sport. Many people are simply not aware how important it is to correct defective vision properly when practising sport. After all, half a dioptre of myopia cuts visual performance by 50%. Long-sighted people also place a permanent strain on the brain to compensate for impaired vision. In the course of a day, this can mean a loss of energy in other areas – including coordination and concentration.
As the days lengthen, driving errors and lapses in concentration become more frequent. In poor lighting conditions, the demands increase exponentially for any wear of eyeglasses; all the more reason to correct impaired vision, even if it is only minor. Satisfied users of SK-X® ski goggles report feeling much more stable on skis. Skiing becomes fun again because skiers can assess the terrain more easily, judge distances correctly and use their equipment much more effectively. 
Find an optician near you:
choose from more than
SK-X® TECHNOLOGY FOR GREATER STABILITY ON SKIS
What distinguishes SK-X® technology from other systems for eyeglass wearers (ski goggles fitted over spectacles or clip-in systems)? What are the advantages? During the development process, the top priority was to optimise visual inputs for the eyes, and thus for the brain. The better the quality of the images passing from both eyes to the brain, the less work the brain has to do to process that information. The result: more fun, less effort!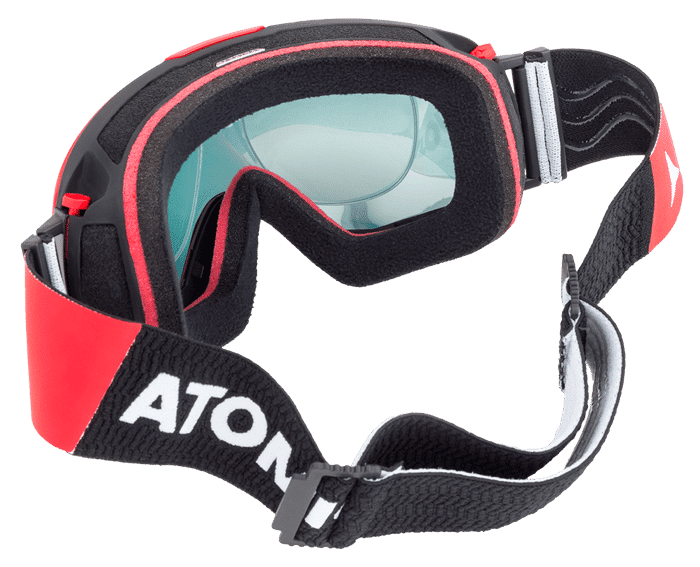 SIGNIFICANT REDUCTION IN FOGGING
Optical lenses are directly integrated into the double lens system of our ski goggles, which prevents fogging of the inner lens by separating the cold air outside of the mask from the air beneath the mask. The optical lenses slot into a groove in the rim of the inner lens.
The main advantage of this design is that the glass is stable within the mask, and does not slip or shake – as it can with clip-in systems. The design also ensures the light reaching the eyes is consistent, thereby preventing optical irritation. In the event of a fall, there is no risk of injury – a distinct possibility when wearing conventional glasses beneath a mask. There is also no danger of conventional glasses being damaged in a fall. 
Integrating optical lenses directly into the double lens system of the ski goggles also upholds the original system for preventing fogging. Although optical lenses cannot be fitted with integrated anti-fog coating at present, the overall design ensures largely fog-free usage. Fogging cannot be completely ruled out on highly intensive deep-snow runs, in wet conditions and where the foam on the ski goggles is very damp; here we encounter the limits of physics.
PERSONALISED PRODUCTION OF ALL OPTICAL SK-X® SKI GOGGLES
All of our goggles are manufactured with curving sports lenses adapted to the curvature of the ski goggle lens. This ensures SK-X® optical ski goggles produce a perfect image quality. The optical lenses with free-form technology are customised for each individual, and designed to optimise spatial vision.
Improved spatial and distance perception and an optimised sense of speed significantly enhance your ability to negotiate the pistes safely and with good coordination. Choose ski goggles tailored to your precise needs with SK-X® technology!
Find an optician near you:
choose from more than